You Are Invited!
13th Annual Victory Golf Outing
Monday, October 8, 2018
Chesapeake Bay Golf Club
Open to the Public
We invite you to play in our 13th Annual Victory Golf Pass Members & Friends Outing on Monday, October 8, 2018 at Chesapeake Bay Golf Club - Victory's Home Course. Fun Format is a 4 Person Team Scramble that is Open to the Pubic. Invite your friends!
Bring a team, or we'll pair you up! A great annual event and the perfect way to celebrate the 2018 golf season with your fellow Victory Members and friends.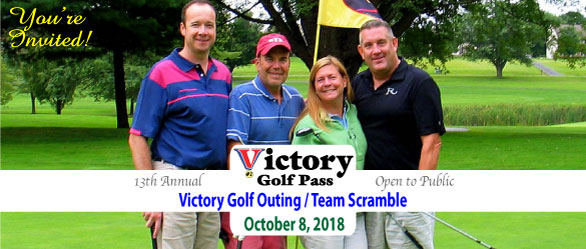 Entry: $55/person or $100/couple
Entry includes: Golf, Cart, Gross & Net Prizes, Continental Breakfast, Lunch, Keg Beer, Soda Stations on Course and Skills Contests! Supports our Victory Hope Foundation.

Choose a Sign Up Method Below:
· PRINT VERSION: Return our Victory Outing Entry Form
· ONLINE VERSION: Fill Out our Online Sign Up Form
· CALL: Chesapeake Bay Golf Club's Pro Shop 410-658-4343 x26
· FAX: Chesapeake Bay Golf Club 410-658-1090
· 2018 VICTORY GOLF PASS BOOK: Fill Out & Return Outing Entry Form on Page 185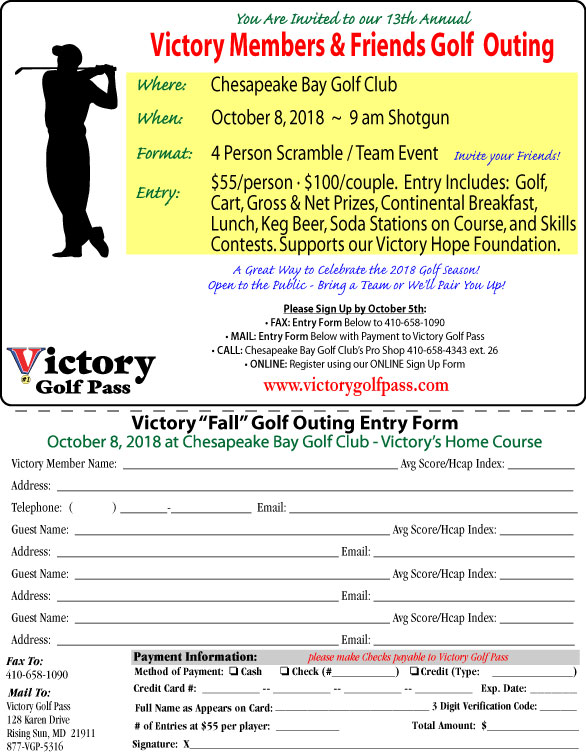 Course Information & Directions:
Chesapeake Bay Golf Club
For more information about Chesapeake Bay Golf Club, please visit chesapeakegolf.com.
Course is closer than you think! Conveniently centrally located off I-95 Exit 100 in northern Maryland, just minutes from the borders of Pennsylvania and Delaware.
Chesapeake Bay Golf Club
128 Karen Drive
Rising Sun, Maryland, 21911
Pro Shop: 410-658-4343 x26
---
Victory Golf Outing Results / Recent Archives
Click Here to View Victory's 2018 "Spring" Outing Results
Monday, April 30, 2018 at Chesapeake Bay Golf Club
Click Here to View Victory's 2017 "Fall" Outing Results
Monday, October 16, 2017 at Chesapeake Bay Golf Club
Click Here to View Victory's 2017 "Spring" Outing Results
Monday, April 24, 2017 at Chesapeake Bay Golf Club
Click Here to View Victory's 2016 "Fall" Outing Results
Monday, October 17, 2016 at Chesapeake Bay Golf Club