Golf is Back Baby! All States in the Region have opened up Golf as a Safe, Low Risk outdoor activity that provides abundant fresh air, sunshine, exercise and camaraderie.
Welcome Back - and enjoy this great game we love!
Golf Courses across our territory are doing a number of different things to mitigate the spread of the coronavirus. Because of this unprecedented time, redeeming usage at Victory Golf Pass participating courses may differ from course to course. That is why we have come up with a simple set up guidelines for our members to be able to use your Victory Golf Pass in a variety of situations.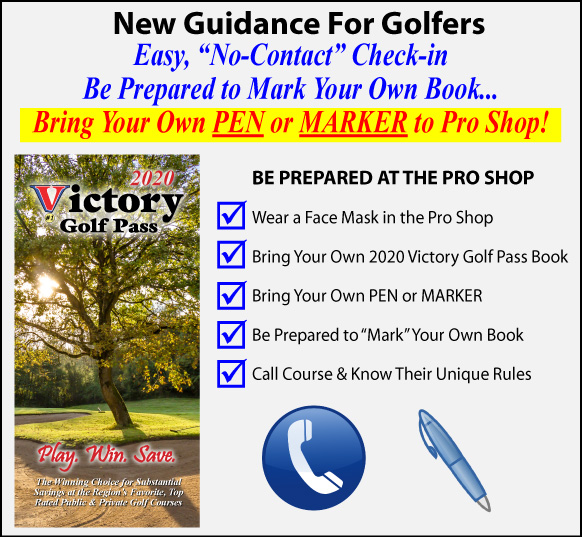 Golfers:
• IF A GOLF SHOP REQUIRES NO-TOUCH CONTACT BETWEEN A SHOP ATTENDANT AND CUSTOMER:
Each Golfer is responsible for bringing their OWN Victory Golf Pass book and their OWN PEN or MARKER to the Golf Course.
You will mark your own book in front of the staff at check-in.
Be prepared - Grab a pen or marker - and put it in your golf bag today!
---
• IF A GOLF COURSE REQUIRES A PRE-PAYMENT:
Please Call the Golf Course Pro Shop to book your tee-time.
If you are playing with multiple golfers, you must know what each of them is supposed to pay. If other golfers are using a Victory Golf Pass, you must state the deals they are using over the phone.
One person will be paying for your group in advance, so make sure everyone is accounted for. Please be honest and prepared. You will have to pay the differential in the event you give the wrong amount.
Each Golfer is then responsible for bringing their OWN Victory Golf Pass book and their own PEN or MARKER to the Golf Course. Be prepared to mark your own book in front of the staff at check-in.
---
• SPECIAL OFFERS:
Some golf courses will be offering new special promotions through the Victory Golf Pass Online Expansion. Look for these through our emails or website! Make sure to present your Victory Golf Pass book along with the special offer download to redeem at the golf course. So stay tuned!
---
**UPDATES**
*Applecross CC May 13 - date cancelled due to reopening for Members after state shutdown. Applecross CC will be providing new "Membership Preview" opportunities for Victory - that will be announced soon.
*Wetlands Golf Club - Note from Wetlands Ownership: they will honor the Victory Golf Pass during the Weekdays (Monday- Friday) as it states in the book. Weekends will be honored after the Governor terminates the mandate order – which at this time is unknown. So play there on the weekdays if you like.
*Paxon Hollow - has notified us that they have set up all tee time reservations and payments online-only at one set rate. So they are temporarily not accepting the Victory Golf Pass book and apologize for any inconvenience.
---
*State of Pennsylvania - Governor Wolf announced that Dauphin, Franklin, Huntingdon, Luzerne, Monroe, Perry, Pike and Schuylkill counties are moving to the "Green" Phase of reopening on June 19.
In the Green Phase, Restaurants and Bars Open at 50% Occupancy, gatherings up to 250 and more. Masks are still required when entering a business.
Philadelphia, Berks, Bucks, Chester, Delaware, Lackawanna, Lancaster, Lehigh, Montgomery and Northampton counties moved to the "Yellow Phase" of reopening on June 5.
In the Yellow Phase in-person retail is allowed, outdoor dining, stay-at-home orders lifted (masks still required when entering a business) and more.
It is important to note that Golf Courses in Pennsylvania have been allowed to maintain in-person operations - even in the "Red Phase" - as stated in the Governor's guidance on May 8th:
Golf Courses may maintain in-person operations
"In counties designated as being in the Red Phase of Reopening, golf course operators may permit individuals access to the property so long as there are no gatherings of any kind and appropriate social distancing of six feet between individuals is strictly abided."
Please be patient. Some Pennsylvania Golf Courses may still be transitioning from a restricted pre-payment system online, to resuming normal in-person operations in the days ahead.
*State of Maryland - Maryland entered Phase 2 of reopening on Friday, June 12th at 5pm. Indoor dining has resumed at 50% capacity with distancing, indoor gyms, casinos, malls and more. Outdoor high school sports may resume practice and training. Face masks must be worn when entering buildings.
*State of Delaware - Phase 2 begins in Delaware today, June 15th. Retail, Restaurants, will open at 60% capacity. Indoor gatherings are allowed up to 50 people, and outdoor gatherings up to 250 people. Continued use of cloth face coverings when entering businesses, and social distancing required.
*State of New Jersey - New Jersey enters Stage 2 of reopening today, Monday, June 15th. Stage 2 includes outdoor dining at restaurants and bars with restrictions, outdoor special events up to 100 people, and more. Face coverings are required when entering a business.
---
Please note the above state updates and information have been provided as a basic guide for your reference. For the most accurate and up-to-date state guidelines, we encourage you to do your own research.
Please follow all other safety guidelines such as wearing a face mask in the pro shop, and please call the golf course in advance to make sure you're following their own policies in place.
Thank you for your cooperation and understanding! We hope this helps.
The Victory Golf Pass Team
Note: Victory's suggested guidance on this page is not mandatory for customers - or courses - and is subject to change. It is to be used as a helpful guide as we transition back to normal.