We invite you to play in our 14th Annual Victory Golf Pass Members & Friends Outing on Monday, October 14, 2019 at Chesapeake Bay Golf Club - Victory's Home Course.
Fun Format is a 4 Person Team Scramble that is Open to the Pubic. Invite your friends!
Bring a team, or we'll pair you up! A great annual event and the perfect way to celebrate the 2019 golf season with your fellow Victory Members and friends.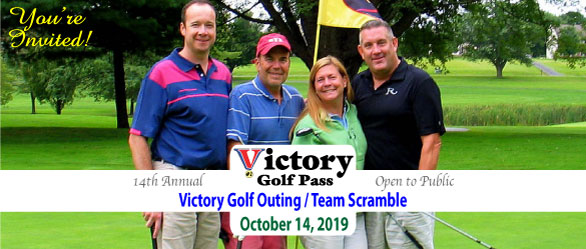 Entry: $55/person
Entry includes: Golf, Cart, Gross & Net Prizes, Continental Breakfast, Buffet Lunch, Draft Beer, Soda Stations on Course and Skills Contests! Supports our Victory Hope Foundation.

Choose a Sign Up Method Below:
· PRINT VERSION: Return our Victory Outing Entry Form
· ONLINE VERSION: Fill Out our Online Sign Up Form
· CALL: Chesapeake Bay Golf Club's Pro Shop 410-658-4343 x2
· FAX: Chesapeake Bay Golf Club 410-658-1090
· 2019 VICTORY GOLF PASS BOOK: Fill Out & Return Outing Entry Form on Page 185